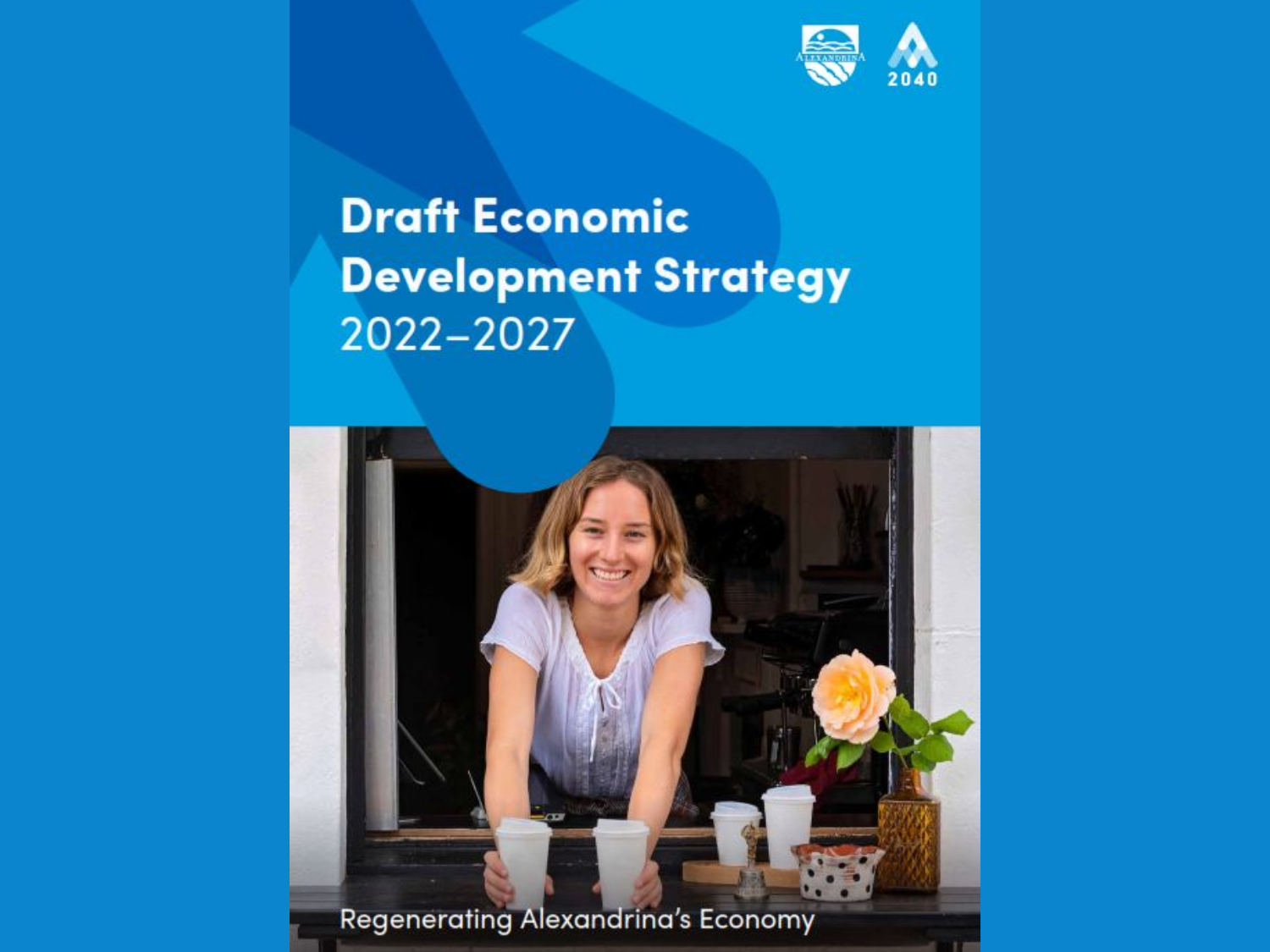 What could vibrant economic growth for the Alexandrina region look like over the next five years?
What kind of legacy do you want to create for your family and the generations to follow?
These are the kind of questions Alexandrina Council asked of the community as we developed a new economic vision for the region. The message we heard back loud and clear was a desire for an economic future that works for the good of our region's people and environment and which values our unique heritage.
We have now released for consultation the new draft Economic Development Strategy: Regenerating Alexandrina. Just as community input was key to developing the Strategy, we are again seeking your feedback on the completed draft.
To secure a sustainable future for our diverse region, the Strategy embraces the concept of 'regeneration'. Regenerative growth aims to balance the need for progress with deep respect for heritage and the environment. Our intent is to grow a resilient economy which purposefully sustains our people, environment, culture, and history.
What is regenerative business?
It is a simple concept really. Take, for example, the Peninsula Providore olive grove. Owner Mel Hollick, as current custodian of the land, aims to leave the grove in better health than when she started. She understands that the quality of the natural environment determines the quality of her olive oil. Her focus is on soil health, using waste products from the olive mill as compost throughout the grove.
'It's really important to us to leave it better for the next generation', Mel says.
Opportunity to grow
We see great opportunity for our remarkable region to sustainably build on what makes us great.
Our region is perfectly located, close to Adelaide but not too close, and offers a great
lifestyle in beautiful surroundings. COVID-19 has spurred migration to the regions and boosted local travel, and as more people come so does greater prosperity.
Our many local attractions have the potential to grow. A new wine trail at Langhorne Creek, a revitalised streetscape in picturesque Strathalbyn, and an expanded South Australian Wooden Boat Festival celebrating our maritime history, to give just three examples, are all now in the works.
Regeneration will value our heritage
We will preserve the character of our townships and expand upon our traditional economic strengths. Key local industries including agriculture and tourism will be supported as they tend to and share our region's natural assets.
Alexandrina can also benefit from diversification. Farmers can tap into the burgeoning tourist trade, offering paddock to plate experiences. Infrastructure such as the Goolwa Wharf Precinct revitalisation will bring diverse businesses together and encourage innovation. Our economy also has space for more healthcare, professional services, and creative industries.
Charting a five-year path ahead
The draft Strategy for 'Regenerating Alexandrina's Economy' outlines the actions Council will take over the next year to accelerate the region's pathway to growth, describes the key partnerships required to achieve this, and outlines five-year objectives.
Mayor Keith Parkes sees the release of the draft Strategy as a turning point for the region.
"The Economic Development Strategy will be an important navigation tool to guide Council's focus, efforts and resources to ensure a sustainable thriving economy that meets the needs of our residents, families, businesses, and other stakeholders into the future," says the Mayor.
Council Chief Executive Officer, Glenn Rappensberg agrees, adding "I am proud to be at this stage, releasing the Economic Development Strategy for feedback. This helps inform the A2040 Plan to Thrive and highlights how our community's aspirations can be addressed. It is important we hear from all sectors of the community".
Have your say
To have your say, view a quick summary or read the draft Strategy, visit https://mysay.alexandrina.sa.gov.au/drafteds
Community consultation runs until 30 November 2021.