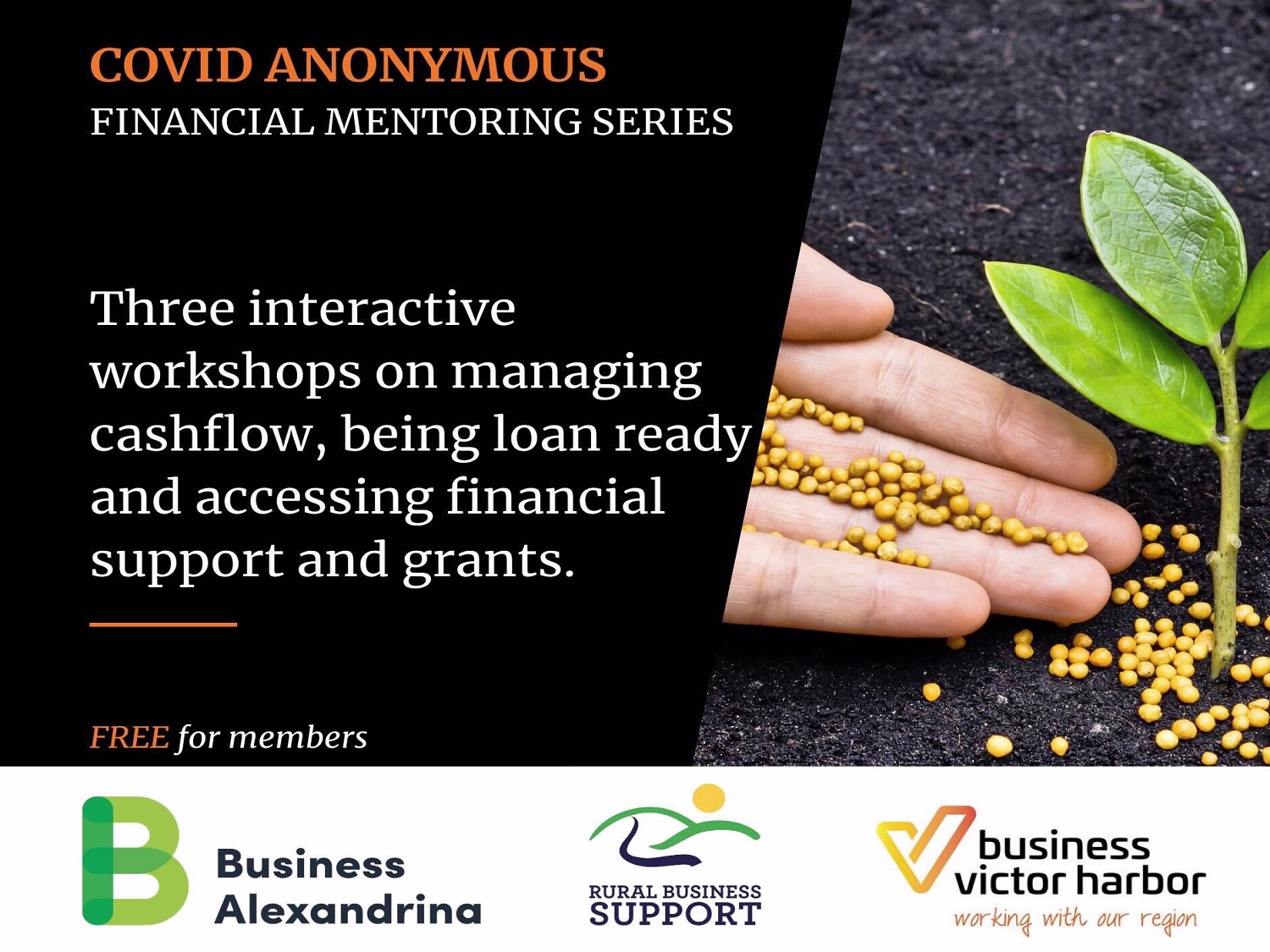 Business Alexandrina have partnered with Business Victor Harbor and
Rural Business Support
to provide our members and the local small business community with financial counselling and advice.The 'Financial Mentoring Workshop Series' is designed to help small businesses within our community better manage their finances and provide them with the tools they need to move their businesses forward and thrive in the post COVID recovery.
The three workshops will be facilitated by Small Business Financial Counsellor Steven King and are
FREE
for Business Alexandrina and Business Victor members. They will cover the following:
Tuesday 20 October 2020Workshop 1– The Importance of a Realistic Cash Flow Budget
The Hub, Goolwa
This discussion topic will be an open forum conversation with the room regarding the collective understanding of what a Cash Flow Budget is. The aim is to discuss and explore the importance of all facets of a Cash Flow Budget, its many forms and uses for business sustainability and planning.
Tuesday 10 November 2020Workshop 2 – Being Loan Ready: Accessing Finance and the Myths Surrounding the Process
4pm-5.30pm, TAFE SA Victor Harbor
When considering accessing finance, Small Business owners have many options available to them. We will be encouraging the group to ask questions and provide their experience(s) in relation to accessing Finance for Both Business and Personal purposes. We have found that there are significant myths surrounding finance in the Small Business community. Once guided, Small Business owners can confidently plan and apply for appropriate finance for their business requirements in a confident manner.
Tuesday 24 November 2020Workshop 3 – Accessing Support and Assistance (free) in Regional Areas Regarding Finance/Hardship
4pm-5.30pm, TAFE SA Victor Harbor
In this topic we will be discussing the (Free) services that Rural Business Support provides along with other areas of support and guidance that can be investigated. There is a myriad of help for the wider community and in particular, small business holders. Whether it be Grants, Financial Counselling/Coaching or accessing services for your health and well-being.
In order to book into these workshops, you need to be a small business (18 employees or less) or sole trader and only one person from the business can attend. You can book one or all three sessions.
Be quick as places are limited to 14 people.